You know the saying…You never get a second chance to make a first impression. Whether prospective buyers are pulling up to your house with a real estate agent, or clicking through MLS photos online, you want your house stand out above the rest. That starts with the first thing buyers see: the front of your home. Here are 5 ways to freshen up your home's curb appeal so you can make that great first impression.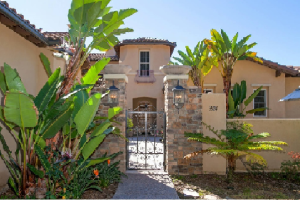 Freshen up your landscaping. Laying fresh wood chips and planting a few colorful flowers can go a long way. Make sure your bushes are trimmed, your lawn is cut, and your yard is free of weeds and debris.
Freshen up your walkway and entryway. As a larger project, adding stone or stamped concrete to your walkway can instantly give your home's curb appeal a major boost. For smaller projects, try lining your walkway with decorative lighting, such as individual solar lights. Add warmth to your entryway by including seating or potted plants.
Freshen up your front door. Your front door gives your home character and tells visitors what to expect once they enter. Make a statement! This can mean simply painting your existing door a contrasting color to make it more inviting, or replacing your old door with something updated and stylish. And, make sure your "Welcome" mat is in welcoming condition. (Note: If your garage door faces the street, you might also consider freshening that up).
Freshen up your fixtures. Outdated lighting fixtures can make a house look less appealing. Consider updating your home's exterior lighting fixtures to compliment your house and enhance its safety. Coordinate your fixtures with your mailbox and house numbers and buyers will be sure to notice.
Freshen up your paint. Probably the biggest impact you can have on curb appeal is by freshening up your house with a new coat of paint. Coordinate a complimentary trim color and some decorative features, such as shutters, accent colors, or stone, and you can totally transform your home's curb appeal.
Not sure where to start? Try taking "before" photos of your home from the front and using those to plan out how you would like it to look and go from there. If you're not up to tackling these projects yourself, you can always ask your real estate agent for referrals to contractors that can help you.   In the end, enhancing your home's curb appeal will help your home to stand apart and make the memorable first impression you really want.
Investing in YOUR Future,
R.B. Haley Fine Homes and Estates
Did we miss anything? Feel free add comments below with some of your great ideas and/or feedback. Thanks for your input and please remember to share!
R.B. Haley, Inc. 12396 World Trade Drive, Suite 306, San Diego, CA 92128
http://www.RBHaley.com   858.592.4895   CA Lic#01843189/01219416